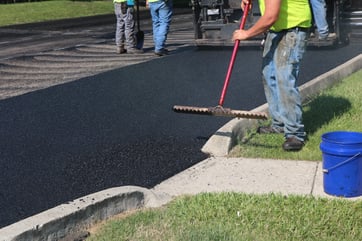 A crucial aspect of investing in a new, or resurfaced, asphalt parking lot for any property owner is knowing how much to budget for the project.
No two parking lots are the same, so relying on general figures and estimates found on Google can be an unreliable way, and may lead to "sticker shock" once your business' lot is actually estimated by a contractor.
Luckily, there is another option: a parking lot cost calculator.
How An Asphalt Parking Lot Cost Calculator Works
Our parking lot cost calculator works by estimating the material cost of your project, based on the size of your lot and the thickness desired for the asphalt.
Your parking lot size is provided by Google Earth -- giving you almost exact dimensions for your lot to plug into the calculator. Instructions to use Google Earth are provided in the calculator tool, and below: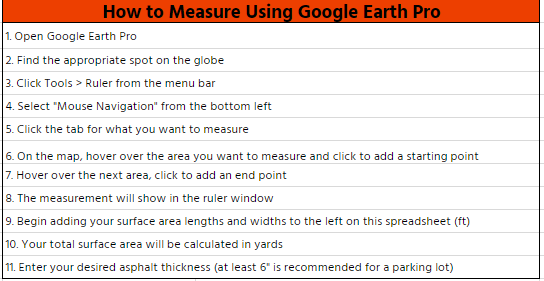 The calculator is based on an asphalt price of $70 per ton. This is the current average cost of asphalt that is recommended for commercial construction use. The calculator is updated accordingly as this price changes.
When To Use the Asphalt Calculator
If you know that you will be investing in a new parking lot for your business in the future, the calculator is a good first step to get the ball rolling on your project.
You can use the calculator at any time, whenever is convenient for you, making it a hassle-free way to get an approximate cost for your project. You can then begin to prepare, plan, and budget for the project accordingly.
When it comes time to choose a contractor for your project, you will have already accounted for the investment in your budget, and know that you are prepared to get started with work on the lot.
Always Talk to Your Contractor for an Exact Estimate
The asphalt calculator is a good tool to use for an approximate estimation of the cost of your project.
This calculator is believed to be accurate to the best of our knowledge. Park Enterprise Construction disclaims any liability or inaccuracies in the calculations. This calculator will not be used as an official estimate of work.
For an official estimate of work, contact us for a free quote.