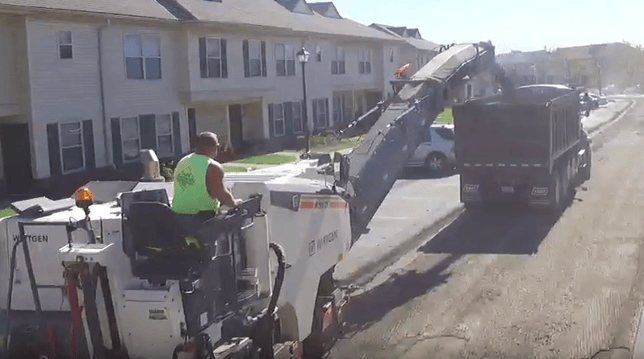 Eventually, you can no longer continue adding new asphalt overlays to a driving surface.
What is Asphalt Milling?
Asphalt milling, also known as cold planing, removes the top layer to pave again with a clean slate.
It's necessary for replacing all kinds of asphalt infrastructure from commercial parking lots to public roads, streets, and highways.
Driving surfaces serve both functional and aesthetic purposes. Commercial parking lots are often the first physical point of contact customers make. A lot pockmarked with cracks and potholes create a poor first impression - no one wants to test their shocks and dance around craters.
You may have performed routine maintenance like sealcoating, repairing cracks that eventually become potholes, and scheduling semi-regular asphalt overlays. But time, repeated use, and the elements eventually issue their death sentence.
Starting anew is inevitable. Milling the asphalt is the first step.
How is the Asphalt Milling Process Done?
1. Grinding the Surface
A cutting drum armed with spikes grinds the top layer of asphalt. It rotates cutting heads across the surface, pulverizing the existing asphalt evenly down to a predetermined depth.
This is done without disturbing the crucial subgrade, which, if damaged or weakened, will not support the weight of the driving surface and vehicles above it, resulting in unsightly and potentially dangerous pavement failures. The milling process also leaves existing infrastructure like curbs and drainage systems intact.
2. Removing the Remnants
A clean surface is critical for ensuring a stable bond between the base and the fresh asphalt. A vacuum and conveyor system removes the crushed material and transfers it to a dump truck.
3. Recycling the Material
Using reclaimed asphalt pavement (RAP) benefits the environment and your financial bottom line. Recycling asphalt saves between $30 and $80 per ton, on average, compared to making fresh asphalt.
For the contractor, recycling asphalt reduces time, energy, and transportation. Those costs ultimately get passed down to you. For the environment, recycled asphalt reduces the use of oil and other natural resources in addition to eliminating waste.
Give Your Driving Surface a Fresh Start
Milling is the only logical step when you can no longer add more asphalt to a driving surface. It grinds away the old surface to make room for a new layer. Both your wallet and the environment will appreciate the option to recycle.
Choose an experienced and trustworthy construction company with the ability and resources to breathe new life into your parking lot or roadway.