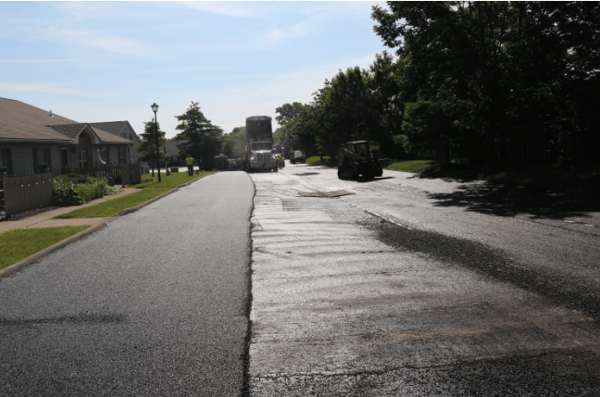 One of the core services that is provided at Park Enterprise Construction is asphalt paving. Over the past 30 years, our skilled team has completed countless asphalt paving jobs in the Marion and Columbus Ohio areas.
However, our process has not always looked like it does now. With the advancements in new paving technology and asphalt tools and equipment, our process has become more efficient and precise throughout the years.
Asphalt Paving Through the Years
One of the major differences in our current asphalt work process and that of 30 years ago is the equipment upgrades. Park Enterprise Construction started with a basic paver, but now has a fleet including specialized equipment, all of which sync with electronics to improve precision and efficiency.
Similarly, our milling process started with just a small bump-grinding skidsteer with a 2 feet mounted unit used only for spot milling. Now, we are able to mill entire parking lots with our machinery. Additionally, our road mill has technology to leverage electronic control grade.
Another major difference is recycling. As technology grows, so does our ability to recycle asphalt and concrete during paving jobs. Some of our cold mix asphalt process are even 100% recyclable.
Our Current Asphalt Paving Process
Before a new lot could be installed, there are a few additional steps that need to be considered prior to work beginning.
For most asphalt resurfacing jobs we perform for our customers, we follow the following process.
Step 1: Determine a Scope of Work and Set a Budget
Asphalt installation processes all starts with deciding the type and amount of work you need done and then hiring a contractor to perform the work.
It's always a good idea to research online and find a contractor who has a good reputation in your area.
Make sure that the contractor you hire is credible, ethical, experienced, and follows the steps listed below.
Remember: Cheaper almost never means better. It's important to choose a contractor whose work will be durable and long lasting. It is almost always worth it to pay a little bit more up front for a contractor who will go the extra mile, rather than pay frequently down the line for asphalt repair.
Step 2: Demolition and Removal (Only for full depth reconstruction)
After a bid is accepted, it's time to get to work. Asphalt resurfacing starts with the demolition and removal of the current surface. This involves the use of heavy-duty equipment and other heavy equipment on larger jobs.
The process is noisy and dusty, but an essential step. If you're a property manager, ask your contractor when they estimate this step will take place. That way, you can notify your residents and tenants ahead of time, and eliminate any calls of complaint.
Step 3: Grading and Subgrade Compaction or Milling
Before any asphalt can be put down on a new lot, the ground has to be properly graded and the subgrade compact. This step is important to ensure the pavement drains properly.
Following grading, a drum roller is brought in to compact the soil. For new construction jobs, a proof roll test must be completed. This is typically done with a fully loaded dump truck, and tests the integrity of the stone before the lot is laid.
On an existing lot that is being resurfaced, milling takes place instead of the above described procedure. This is done by grinding the surface of the existing lot, removing the remnants, and recycling the material.
Step 4: Lay Crushed Stone (Only for new lots or full depth reconstruction)
The next step before putting down fresh asphalt is laying down crushed stone. Crushed stone helps with drainage and also provides a sturdy base for the asphalt to be placed on.
The aggregate sub-base needs to be compacted. This typically is done by adding water, and with machines and technology to reach the perfect range of compaction for optimum performance.
Step 5: Lay the Asphalt
Following laying crushed stone, some jobs may also include putting down separate courses of asphalt.
Finally, laying the asphalt is the last step. When you sought an estimate ideally, you should have already determined the size of the aggregate in the asphalt and thickness of the asphalt to be put down that will be applied, as every application is different.
Once put down, it should be compacted with a roller (or roller truck on large jobs) to create a smooth, uniform surface. The edges should be formed at a 45 degree angle.
Joints and transitions are also made during this last step so the new surface blends in seamlessly with other surfaces. If the joints are properly aligned and rolled while the material is still hot, the seal will be greater and less at risk of future water damage. If the joints are rolled while cold, the pavement is susceptible to a weak spot and failure.
Leveraging New Paving Equipment and Technology
To accomplish the steps above, we utilize several state of the art pieces of equipment.

These include:
Blaw Knox RW100 Road Widener -- Used for asphalt and stone applications from 2 feet to 4 feet. Is used to widen roads and fill in trenches.
Weiler Paver Mod. P385A --Used for paving widths from 8 feet to 16 feet.
Sitech Trimble Control Mod. PCS400 for Paver -- Used as an electronic grade control device.
Distributor Truck F700 -- This is a large tank truck used for applying tack for roads.
Leeboy L250T Tack Buggy -- This is a 250 gallon pull-behind tack wagon used for smaller parking lots.
International Water Truck -- This is a 1,000 gallon water truck for water used in machines.
P3000 9-Wheel Roller Galion -- This is a 9 wheel, rubber tired roller for compacting base asphalt. This is used in jobs where the asphalt is laid 6" or greater to ensure proper compaction.
CAT CB24B Roller / Compactor -- This is a break down roller that is used for compaction.
Wacker Vibratory Roller RD12A -- This is a small finish roller used to remove small roller marks leftover from the break down roller.
279 C2 CAT Skidsteer -- This is a skidsteer for attachments. Our crews utilize three of these machines.
CAT Cold Planer SSL PC206 -- This is a 2 foot wide milling attachment for the skidsteer. This is utilized for small areas to spot mill.
CAT Cold Planer -- This is a 3 foot wide milling attachment for the skidsteer. This is utilized for small areas to spot mill, and moves slightly faster than the aforementioned spot miller.
11" CAT Angle Broom -- This is a skidsteer attachment used for cleanup.
Wirtgen W120 Mill -- This is a 4 foot wide self-propelled road mill. This mills, picks up, and loads the asphalt into the truck all in one smooth motion, increasing job efficiency.
We use heavy equipment such as excavators when necessary for new parking lot installations.
Asphalt Services Provided By Park Enterprise Construction
Get durable parking lot construction with our industry-leading equipment, durable paving products, and expert layout that's best for your specific lot. Over its lifetime, your parking lot will require less expensive repairs, increase your business's curb appeal, and improve the resale value for your lot.
Our commercial asphalt services include:
Parking lot new construction & contracting
Parking lot repair & resurfacing
Recreational lots
Asphalt paths & walkways
Road paving
Overlay & replacement
Asphalt milling
Learn more about these services and view past projects here!