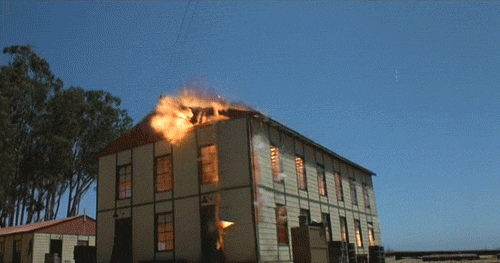 Unlike the movies, commercial space demolition isn't all flash and bang, with big explosions and catastrophic circumstances. Generally speaking, commercial space demolition is controlled and careful.
Even though it might be fun to picture demolition as it's seen in old cartoons, that isn't how the steps to demolition traditionally play out.
Commercial Space Demolition Myths Debunked
Here's a quick look at the steps involved in a commercial demo and the myths that are often mistakenly believed in during the process.
1.Stuff doesn't just get knocked down.

First, we obtain demolition permits from local jurisdiction. This ensures that any legalities are tended to before the process is started and that no issues will arise during or after the process from our activities.
2. No big explosions.
In fact, a hugely important step in the demolition process is avoiding big explosions.We take the time to ensure that all electric, gas, phone and cable services are removed from the house or building before demo. This helps prevent dangerous issues on the job site.
3. Things don't go flying everywhere.
We demolish or knock down the house or building for removal very carefully to ensure that there isn't additional damage caused by the debris.
4. Giant mounds of bricks aren't left behind.
Our crew is careful to load demolition debris into trucks for removal to an appropriate landfill or similar site.
5. The debris isn't just dumped somewhere random.
We take the time to haul the debris away from your job site to an approved EPA landfill and pay all dump fees, so you don't need to worry.
This is an area where some contractors have been known to cut corners. If you're hiring a contractor for demolition services, always be sure to ask them about where the debris is being disposed.
6. Bare foundations aren't left standing.
It's important to remove the foundation walls 2'-3' below grade, which leaves space for a new foundation to go into place, crops to be grown, landscaping and similar features.
7. Huge holes aren't left to chance.
Backfill the basement or crawl space with clay dirt, hard fill debris(foundations or concrete) or even aggregate in some cases
8. Sewer lines aren't left wide open.
We take the time to cap existing utilities, such as sanitary sewer lines and storm lines, which helps prevent problems with soil infiltration in to these systems and provides a safer end environment.
9.You don't end up with dust and debris everywhere
.
Typically, we water the debris during the demolition process to keep the dust down to a bare minimum. It's better for our workers' health and your job site to keep the mess under control.
10. It doesn't have to just become a big dirt lot.
We will seed and mulch the disturbed areas if required to help turn your now vacant lot back into a decent-looking piece of property. This helps improve resale value if you're selling it as bare land.
Choose a Contractor Who Follows These Steps
By having a solid grasp of how the demolition of a commercial space should work, you can better understand how the process will go when you need to have a structure demolished. But that doesn't mean it's a job that should be left to just anyone!
At Park Enterprise Construction, we can provide you with a quality demo without the risk of a bad job. Please feel free to contact us today to get started.