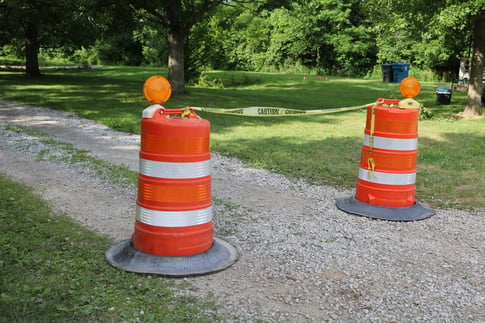 Construction, repairs and regular maintenance to buildings and community amenities on your rental property isn't just necessary for making improvements, but for ensuring tenant safety and comfort.
But it goes without saying that any construction that occurs on or around your property can be an inconvenience for your current tenants -- especially if you're leasing business properties.
Construction vehicles may make getting to and around the property more challenging, the noise of the construction can be an annoyance and then there's the potential for the mess that's made throughout the project.
The bottom line is that while construction is necessary, it's also necessary for you - as a property owner - to navigate such circumstances properly. Failing to do so can lead to angry tenants, broken leases and vacancies. And any vacant property you have is essentially lost rent you could be earning.
Here's a look at some steps to take to keep tenants happy during construction.
Consider Tenant Rights
Construction projects are typically classified as "special circumstances" under most leasing agreements.
However, if a construction project goes awry to the point where a tenant believes it is interfering with their enjoyment of the property, then they may be eligible to break the lease at no penalty.
Additionally, if this occurs, the landlord may be on the hook for certain expenses. Here's a look at how construction may impact a landlord beyond just tenant unhappiness:
Relocation fees: Whether it's temporary or permanent, landlords may be on the hook for relocation fees if a tenant is authorized to break their lease over construction.

Rent reduction: This is another thing that landlords may be required to provide for tenants during construction projects.


Damages:

In the case of a business, the landlord could be required to reimburse the business owner for lost revenue if it's believed that construction is affecting sales.
Knowing all of this, ensuring that construction projects run smoothly and efficiently is all the more crucial. Hiring the right contractor can help.
How the Right Contractor Can Help
While it's true that a lot of the responsibility for informing tenants of construction and construction timelines falls on the property owner, working with a good contractor can help streamline the process.
Here's a look at how:
Transparent Communication:
The best way to keep tenants happy during construction is to be proactive with your communication on any forthcoming projects. That way, tenants who own a business are able to communicate with their clientele, so they're not dealing with unhappy customers on their end.

The contractor can help with this as well, as good contractors will help draft letters and put up signage for tenants informing them of when the project will begin, the timeline of the project, safety information, who to contact for questions/concerns and other pertinent info.

When it comes to a potential inconvenience on your property, it's always best to over-inform those who will be affected.
Adjusting Construction Hours:
In order to minimize inconvenience, many contractors are willing to work when it's best for tenants. For instance, on a residential property, work is often best completed during the day when tenants are at work.
But on a commercial property, work is more ideally performed after normal business hours.
Choose a Contractor That Cares
Choosing a contractor that does everything they can to keep things running smoothly for you and your tenants is key in ensuring you don't lose revenue as a property owner.
When requesting a quote for work on your property, be sure to ask your contractor what their practices are for keeping you informed during the project.