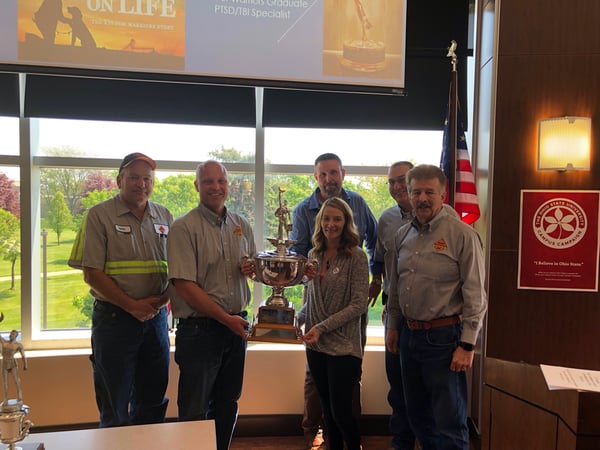 Marion, OH - Park Enterprise Construction has a core belief - "Safety is a way of life at Park." This mindset and a company culture focused on safety helped the Marion, Ohio-based business win the prestigious John F. Lacey Memorial Award on Wednesday, May 8th.
The award (presented annually by the Marion Area Chamber of Commerce's Safety Council) was established in part to recognize and appreciate efforts in industrial accident prevention. Its namesake, the late John F. Lacey, was a pioneer in safety and health work at the Osgood Company where he worked in various capacities from 1922 until 1954. Throughout his career he was involved in safety organizations both at the state and national level.
Given its transformational journey over the past 20 months, it's no surprise Park was selected. President, Eric Park invested in a state-of-the-art safety System known as HCSS Safety (which is especially designed for the construction industry). This included a Safety Boot Camp training in 2018 for himself and additional team members including Safety Coordinator, Ed Danner.
"We're working each day to institutionalize and transform the lives of each Team Member," Danner says. "We want to ensure they go home to their families safely every night."
Of course, safety and accident prevention require ongoing training and attention. Part of this effort includes a weekly meeting led by Danner, Park, the Project Manager, and the Operations Field Superintendent. Every Monday they work with team members to keep safety at the top of everyone's mind for the week.
Park Enterprise Construction isn't only promoting safety within its own organization, but leading the way in central Ohio, hosting a Bureau of Workers' Compensation Trench Safety Stand Down on Tuesday, June 18th. Safety Councils from around the state of Ohio will be invited to the Park offices in Marion for this free training (co-sponsored with United Rentals).