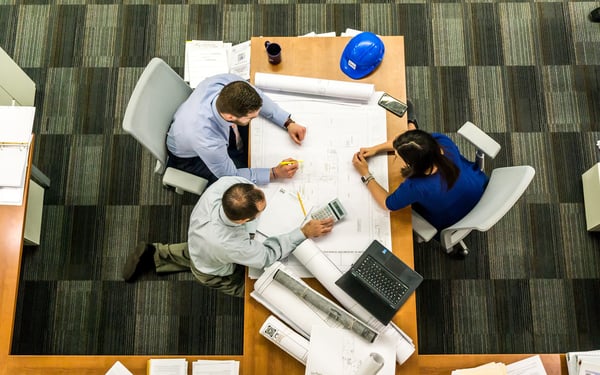 You know what they say about first impressions, right? And while first impressions are usually associated with things like a first date or job interview, the parking lot is often the first thing a potential partner or customer sees when arriving at your business for the first time.
Contrary to what you might believe, parking lots are about a lot more than throwing asphalt down, painting some lines and calling it a day. Planning out a parking lot shouldn't be an afterthought, but a priority.
After all, it's likely to be the first thing someone sees and experiences before entering your business.
The Basics to Parking Lot Planning
Before you start laying out your lot, you need to decide what its purpose will be. For instance, how much traffic do you expect on a given day? Is your business the type of location that will have cars always coming and going? Will it be hosting delivery trucks or vehicles that weigh more?
Here's why asking these questions are important. Let's take traffic, for example. If you have a smaller lot, you'll want to paint lines on an angle to make it easier for drivers to get in and out of; but, this also creates a one-way traffic pattern and requires clientele to back out of tight spaces. If you expect a regular high volume of traffic, you'll want to paint lines closer together to get as many vehicles in at a time as possible.
It is also important to consider the type of traffic that will be utilizing your lot, as there is no one size fits all approach. While the above rules of thumb are true, here are some other considerations:
Turnover time of those parking. It is okay to go with a smaller lot if the turnover time of those utilizing your business is relatively short. Think: convenience store.
Average age demographic of your clientele. For example, elderly people need more space to get in and out of their vehicle, necessitating wider lined spots.
If you expect delivery trucks, you might need more pavement thickness to stand up to the increased weight.
Proper Drainage
Storm water drainage is key for keeping your parking lot looking nice and eliminating a potential safety hazard. Additionally, if the pavement becomes saturated for long periods of time on a regular basis, it will lead to its degradation and premature replacement.
Drainage is something that should be considered very early on in the lot building process.
Curb and gutter sections are key, but so is their proper placement and overall slope of the lot to allow for adequate drainage and prevent any standing water. Slopes of between 2 and 5 percent are generally recommended as part of a drainage solution for parking lots.
If you're looking to reduce some of the runoff that goes into your storm sewer -- a bioswale might be good opportunity. By allowing some of the water to percolate underground in the landscape of your lot, you reduce runoff.
Landscape
If you want your parking lot to look great too, we'd strongly consider installing landscape boxes, or planting trees and/or flowers in areas around curbs or medians. Trees can even help shade parked vehicles and protect the lot surface from the sun's rays.
If your business will be frequented at night (or if you just want to improve nighttime security), consider installing lighting.
In addition to all of this, there's obviously the importance of properly surfacing it. Ideally, parking lots should consist of a base aggregate and an asphalt surface, with perhaps tack coats as well.
Ensure Proper Installation
While things like landscaping and parking lot lines help improve aesthetics and flow, respectively, understanding the drainage, the projected traffic and ensuring the asphalt work is done correctly can all help a parking lot last longer without maintenance or repair.