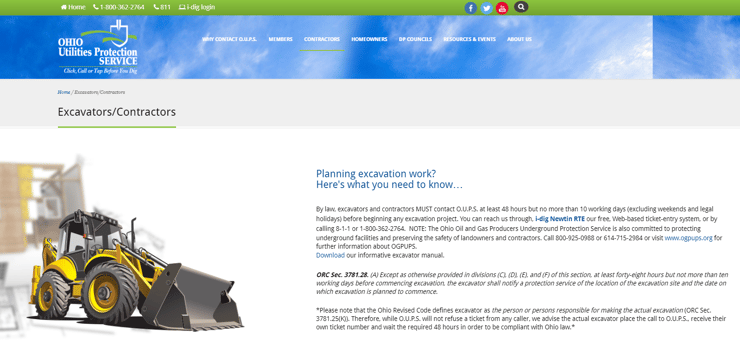 Underground utility contractors can't just start digging. With high-powered construction equipment, we could easily hit an underground utility line and cause a serious problem. Since some utilities include gas lines, something could actually blow up.
That's why contractors use OUPS (the Ohio Utilities Protection Service) to assess project sites. Contractors are required to call at least 48 hours ahead of excavation.
Property owners can also use this service to scope out DIY digging projects and contracted underground utility projects. As a property owner, here's what OUPS can do for you.
What Exactly Does OUPS Do?
The Ohio Utilities Protection Service is a not-for-profit public safety organization. Their scope includes the following:
Inspecting contractor job sites upon request

Mapping out underground utilities with universal marking standards

Advising the safest way to address underground utilities when excavating

Preventing damage to underground utilities through communication and education
Here are some other ways OUPS can assist property owners:
Underground Utility Resources & Guidelines for Ohio
OUPS provides a list of laws, related organizations, best practices, and more for all of your utilities concerns. This includes:
You can also get information on upcoming events and programs.
Check a Positive Response
When you or your contractor sends in an excavation request, OUPS needs to check the status of the utilities with the facility owners. Facility owners will then provide one of ten feedback options:
001 – NO CONFLICT

002 – MARKED (UP TO PRIVATELY OWNED UTILITY)

003 – TICKET CANCELLED

004 – EXCAVATION REQUEST COULD NOT BE COMPLETED - FACILITY OWNER/LOCATOR

WILL CONTACT THE EXCAVATOR DIRECTLY

005 – EXCAVATION REQUEST COULD NOT BE COMPLETED – BAD ADDRESS OR

INCORRECT STREET INFORMATION, A NEW TICKET IS REQUESTED

006 – HIGH PROFILE FACILITY – FACILITY/OWNER REQUESTS TO BE PRESENT FOR EXCAVATION

007 – JOINT MEET/LARGE PROJECT – WILL COORDINATE WITH THE EXCAVATOR

008 – DESIGN TICKET – CONTRACTOR WAS NOTIFIED BY THE FACILITY OWNER

009 – WORK HAS BEEN COMPLETED UPON ARRIVAL

999 - NO RESPONSE WAS GIVEN WITHIN THE 48 HOURS
A Positive Response means that the status of all utilities has been communicated back to you or your contractor. OUPS lets you check for updates online as long as you have your OHIO811 ticket number.
Free Excavation Site Inspections
Careless oversights happen all the time by less-than-reputable contractors and unsuspecting property owners.
OUPS will come out to inspect your site for free. That safety advisement is invaluable. Heed their warnings at all times.
Call OUPS to Avoid Further Underground Utility Problems
OUPS should be your go-to resource for any utility concerns.
If you have a larger excavation project, your contractor should be following OUPS guidelines at every step. If they aren't, that should be a major red flag. Poorly handled excavation and utility projects can harm people, infrastructure, and the environment.
ALWAYS call OUPS before digging!