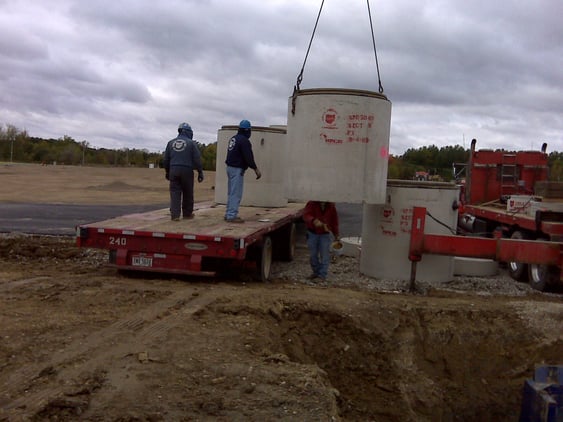 Experience speaks volumes in construction, as with any profession. Site work construction is a detail-oriented process with many possible variables and outcomes for which only years on the job can prepare you.
Every contractor starts somewhere. Most often, they begin as construction employees before earning promotion to an executive position or branching into their own ventures.
Construction professionals learn many valuable lessons over the course of a lengthy career, whether they have one specialization or an array of capabilities. Those years of experience mean everything, and those lessons will ultimately serve you well.
Put Site Work Construction Experience to Work for You
1. Been There, Done That
Would you panic if a water or sewer line breaks? So might an inexperienced contractor. Experienced site work construction employees - having been there, done that - will calmly assess the situation and promptly brainstorm sensible solutions. The goal should be to:
Stop the emergency to prevent further damage

Create enough clearance to fix the issue

Troubleshoot it until they're certain it won't happen again
Having experience has benefits beyond reacting to emergencies. What about routinely laying an asphalt parking lot or replacing an underground utility hookup? An experienced contractor will have tested and honed their skills at thousands of those jobs.
2. Legal Expertise: Permitting, Insurance, Bidding, & Bonding
The following types of contractors must hold up-to-date licenses in the state of Ohio:
Electricians

HVAC

Hydronic technicians

Plumbers

Refrigeration installers
Only financially sound contractors are able to obtain a bond and continue to prove viability year after year.
Home improvement and general contractors in Ohio must obtain local licenses. Any contractor would be foolish to open business without getting the appropriate licensing. Any contractor would be careless not to have the proper insurance to protect both themselves and their clients. Any contractor would be ignorant not to obtain the necessary permits to perform construction or demolition work.
An experienced site work construction company becomes experienced through years of navigating ever-evolving legal channels and bidding processes.
3. Efficiency
Years of performing construction jobs equals years of practice. After some time, even the most difficult tasks become second nature - like catching a football pass or returning a tennis serve.
Not only do those tasks become easier, but they also become quicker. An experienced contractor will work to develop your plans and show up at the site ready to set them in motion.
4. Material and Supply Procurement
Every construction job requires equipment and supplies. Does your contractor know how to get them quickly and for the right price?
With years on the job, an experienced contractor has likely developed a network of prefered, trustworthy vendors to get what you need without hassle. Or even better, they could have some of their own supply stores built up for easy and fast access.
5. Attention to Detail
In your profession, how long did it take to become skilled at (or even aware of) all the little nuances behind the job? When it comes to engineering, designing, and building a great project, those little details are even more critical.
A mistake could threaten the structural integrity of most any project. Cheap inexperience will be more likely to lead to careless miscalculations and oversights.
6. Quality Workmanship
There's a true feeling of satisfaction that accompanies doing a job and doing it right. Believe it or not, a quality construction job is a work of art everyone will stop to admire.
They'll also trust your business or organization more - positively affecting your bottom line. What's more, choosing an experienced site work construction company will help you avoid paying more to fix or replace shoddy craftsmanship later.
7. Honesty
Do you remember feeling ripped off and cheated the last time someone represented themselves dishonestly to you? Imagine the horror of finding a contractor who says they're capable, certified, and licensed to perform certain types of work only to find they're uncertified and incompetent.
The good news is contractors can be held liable for such damaging misrepresentations. An experienced contractor will stand on its reputation and have no need to lie to get jobs.
The Benefits of Choosing Experienced Site Work Construction Crews
It's easy to understand the draw to find the least expensive option. Dollar signs are like magnets.
But consider what you're getting for the money you pay. Most site work contractors make an effort to be the lowest bidder for your project, especially those with less experience, who oftentimes are more desperate to earn your business. No matter legitimate their aims may be, inexperience may cause them to overlook certain costs and realities associated with the job.
Experience, however, is more likely to anticipate and accommodate all quality aspects of the job legally and ethically.