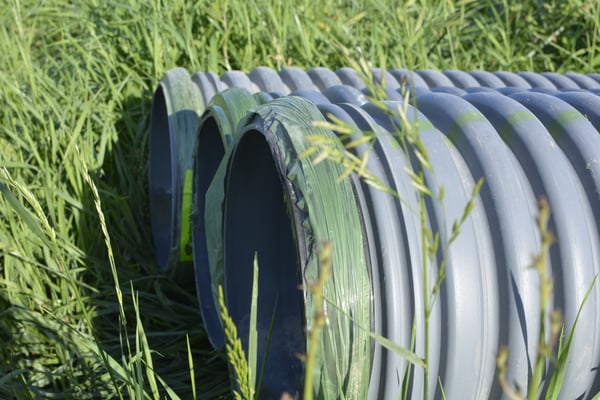 Storm sewer drainage systems are crucial in the prevention of flooding. They help to divert excess rain and groundwater which runs off impervious surfaces such as parking lots, roofs, paved streets, and sidewalks into nearby waterways through a system of drains and underground pipes.
Storm sewer systems can range in design from simple residential drainage to complex municipal drains.
Different piping materials are used in the construction of storm sewers. The best pipe material for the project depends on the type of system being designed, the depth of installation, and the loads being exerted on the pipe.
4 Types of Storm Sewer Pipes
Reinforced Concrete Pipe
HDPP - High Density Polypropylene Smooth Interior

PVC - Polyvinyl Chloride

HDPE - High-Density Polyethylene Smooth Interior
Here are the common types of storm sewer piping and their applications:
1. Reinforced Concrete Pipe
Reinforced concrete pipes are one of the strongest and most heavy duty options for storm sewer piping. They are heavy and quite challenging to install. Large equipment must be used to move, lift, and lay them. They have shorter lay lengths than other types of pipe, typically 8 feet.
RCP is best for use in projects where very shallow installations are a must. In shallow installations, there is not much cover on top of a sewer pipe, and this makes it more susceptible to damage by heavy traffic.
With RCP, large machinery can drive on it without damaging the pipe below.
Reinforced concrete pipe prices vary depending on the diameter, wall thickness, design, lay length, among other factors.
2.
High Density Polypropylene Smooth Interior
This is the second pipe among the four options we have listed here.
It's a great choice for sewer drainage system projects due to the ease of installation and the longer lay length. The typical lay length for this pipe is 20 feet, meaning there are fewer joints compared to RCP or PVC.
The pipe is lightweight, which makes it simpler to install than reinforced concrete pipes. And with a long service life, these pipes guarantee you value for your money.
3. PVC
PVC pipes are the 3rd material to consider. It is a good storm sewer drainage material because it is less costly to purchase, but typically costs more than HDPP or HDPE, but less than RCP. It has a typical lay length of 14 feet.
PVC pipe often needs to have more backfill to ensure the performance of the pipe once final backfill is complete.
4. High-Density Polyethylene Smooth Interior
This material is the last of the 4 listed options. It is manufactured using application-specific high-density polyethylene and offers high abrasion and corrosion resistance.
Just like PVC, it's lightweight which makes it cost-effective to install. It also requires a minimum coverage depth to use.
Also, like PVC, without backfill above the pipe is needed to ensure performance of the pipe. Excessive pressure can egg shape the pipe after installation without the proper backfill -- causing damage or deformation.
Talk to Your Contractor
A trustworthy contractor can walk you through what's best for your storm sewer piping needs and give you estimates for each scenario in your project.