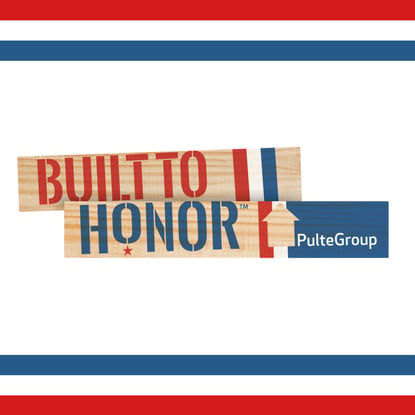 In 2013, PulteGroup launched their Built to Honor program as a way of thanking and honoring wounded veterans for their sacrifices.
Recently, PulteGroup embarked on a new Built to Honor home in Columbus, OH. We were thrilled to see someone in our local area benefit from such a wonderful program, and even more thrilled at the opportunity to get involved.
About PulteGroup's Built to Honor Program
The program started as a way to help confront and prevent issues plaguing wounded veterans, such as homelessness. PulteGroup helps by giving mortgage-free homes to veterans across the United States.
Since 2013, they have built 30 new homes worth an estimated $9 million all over the country.
The Columbus, Ohio Project
Earlier this year, PulteGroup surprised Daus Hempker and his fiancee Jessie with a new home. Daus was wounded in Afghanistan in 2010, after serving more than 6 years in the army -- including combat tours.
To see more about Daus and the Built to Honor project, check out this video:
How We Helped:
When we heard of the Built to Honor project coming to our area, we wanted to get involved. Helping the local community is important to our team, and we try to find as many opportunities to help out as we can.
We provided the labor and equipment to pave the driveway at the home, with materials that were kindly donated from Shelly Materials.
This project was an important project for President Eric Park, who noted:
"Only around .4% of the American population actively serve in the armed forces at any given time. This is such a small amount completing an enormous task, protecting the freedom for the remaining 99.6% of us. Knowing that this group of Americans serve strictly on a voluntary basis is overwhelming.

We often recognize military personnel when they are in uniform and thank them for the debt they paid on our behalf. Although the appreciation diminishes, their battle does not usually end when they hang that uniform in the closet. Built to Honor is a small way we can continue to show our gratitude and Park Enterprise is truly honored to have taken part in this recent project."
How to Get Involved
If you're interested in getting involved to help future Built to Honor Projects, email pultebuilttohonor@gmail.com for more information.