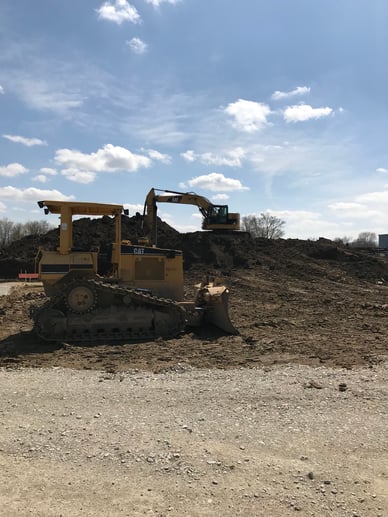 Here's to helping friends in this great community we call home. Park Enterprise Construction Co., Inc. is pleased to be tackling some ongoing work at CenMac Metalworks that aims to create dozens of new jobs right here in Marion, OH.
For CenMac (formally known as Central Machinery Company LLC), the work includes an $8.6 million expansion to create more than 30,000 square feet. But how to fill it? How about an estimated 55 new jobs! The work is associated with the Columbus 2020 Regional Growth Strategy.
CenMac Metalworks Highlights
Here's a list of services and products CenMac provides (in addition to supporting the local economy and already providing numerous jobs).
CNC machining

Manual and robotic welding

Stamping and plasma cutting

Laser cutting and forming
As a company grown from the ground up ourselves, we certainly appreciate having yet another family-owned enterprise here in town.
Word on the Street
"The strong workforce in Marion and in the Columbus Region as a whole has helped fuel our company's ongoing growth. This investment will enable us to upgrade our capabilities and provide the much needed expansion for this phase of our growth." -- Rod Galbreath, president, CenMac Metalworks.

"We are happy and excited to help facilitate CenMac Metalworks' ongoing growth in Marion. The company's decision to stay and expand here further establishes the Region as a manufacturing leader and highlights the strength of our skilled workforce." -- Scott Schertzer, Mayor, City of Marion.
The Scope of the Construction Work
Park Enterprise Construction is building the new addition at the rear of CenMac's existing structure along East Fairground Road. This involves a installing:
Building foundation

Sanitary sewer line

6 storm sewer catch basins and other drainage components

Stone parking lot with small asphalt area
With the heavy construction season just getting underway, we'll soon begin the most critical aspects of the job (because anything worth doing is worth doing right). We expect the all of the work to be complete this fall.
Do You Have Our Next Project of the Month?
This year, we've begun highlighting special construction projects in the community.
Here are some other Projects of the Month:
Whether it's demolition, underground utilities, asphalt paving, or any other type of civil construction, even the smallest commercial projects have the potential to impact many people and businesses.
How can we help you move in the right direction? Contact us here or call us at (740) 223-7275.