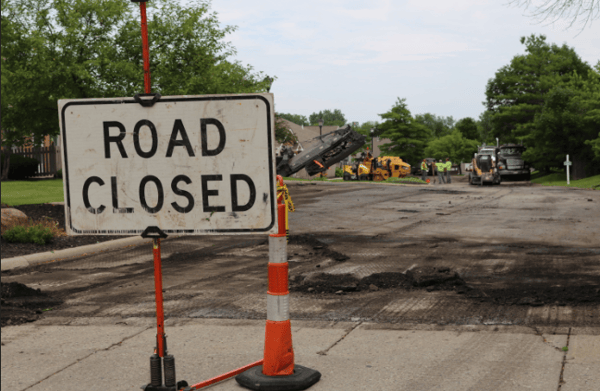 According to the Bureau of Labor Statistics, more than 1,500 workers died on road construction sites between 2003 and 2015, an average of 121 per year. Additionally, it's estimated that up to 20,000 are injured on such sites.
The fact is that road construction sites can make for some dangerous working conditions, and such conditions can be complicated by moving traffic through the area.
It's a major factor of the reason why traffic violations in these work zones carry such significant penalties.
This post will take a closer look at some of the key dangers in road construction and what steps workers need to take to minimize their risk of injury, and what everyone can do to help prevent injury.
Causes of Traffic Construction Injuries
There are a bevy of hazards on road construction sites that workers are challenged with navigating. Here's a look at some of the most significant threats:
Contact with equipment/materials:

This accounts for more than one-third of all road construction injuries. It includes collisions with equipment, overturning equipment or being caught in equipment. These accidents are also the most likely to result in fatality.




Slips and falls:

These accidents account for about 20 percent of all injuries.




Over-exertion:

About 15 percent of all injuries are from overdoing it.




Improper exposure:

Whether it's to chemicals or other substances, this accounts for about 12 percent of all injuries.




General transportation:

Which account for more than 10 percent of all injuries.
The big challenges on these work sites include factors like confined spaces, the weather, low light/visibility, and vehicle congestion.
How You Can Help:
Make sure to always be aware when driving through a construction zone. Some workers are not always easily visible if they are working in low-light or confined spaces. Just because you can't see them, doesn't mean they're not there.
It's important to always be cautious.
Safety Standards
So what can workers do to stay safe in road construction environments? Here's a look, per OSHA standards:
Proper signage:

In addition to ensuring that signage is properly posted for pedestrian motorists, the proper signage should also be included on the work site to warn workers of hazards.





Also known as "accident prevention tags," these are used to warn workers of dangerous or defective tools, hazards and more.




Visible clothing:

One of the challenges of working in road construction environments is low light and visibility. This makes it important to wear clothing that's reflective or fluorescent.





Hats, vests, arm bands and more should be properly donned.




Get your signals straight:

Road construction sites can be loud, so working with communication signals becomes important. Make sure that everyone is on the same page with any hand signals.




Administer parking brakes

: When you're working on inclines or declines, it's essential to always apply the parking brake on construction equipment.





You may even consider anchoring equipment with wheel chocks behind the tires to ensure vehicles don't move during operation.




Spotters:

Whether you're moving equipment, loading or unloading – anytime you're doing something that poses a safety risk to you or others on site, make sure you're working with a spotter.





Spotters can help by gesturing with hand signals to keep you on track, while keeping other workers out of the area.




Wear the right PPE:

PPE, or personal protective equipment, should always be worn. Hard hats, boots, eyes and face protection, ear plugs and more should always be worn on the work site.
Choose a Contractor That Prioritizes Safety
One of the best ways to prevent tragic accidents is by choosing a contractor who focuses on integrating safety into their practices.
Safety is a way of life at Park, and we translate that to all of our projects.
---
---
Check out some of our other blogs on construction safety: