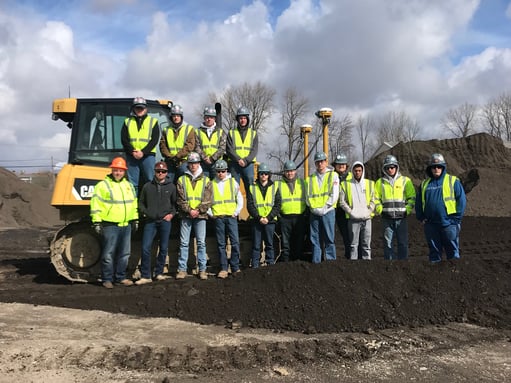 So many of us remember that feeling of uncertainty as we prepared to leave school and enter the workforce. Before landing a first construction job, or one in nearly any other profession, it's common to wonder:
Am I employable?

Have I learned enough entry-level skills to be valuable?

Am I prepared for this level of responsibility?

Will my job pay well and help support my family?
That's why Park Enterprise Construction Co., Inc. was happy to host students from the Tri-Rivers Career Center Construction Trades Academy recently. This next generation of construction professionals included 11 high school juniors and 1 senior, each enthusiastic to enter our field and hopeful for a successful career.
It was a pleasure giving some professional insights to these young adults and showing them a day in the life of an Ohio civil construction company.
Park Enterprise Construction is Committed to Mentoring the Next Generation of Construction Workers
We showed the Tri-Rivers students how GPS-controlled machinery puts construction projects perfectly on the level. We discussed the hard work and dedication that goes into mastering each of our services, from commercial asphalt paving to underground utilities, site development, demolition, and more.
They even got to operate one of our bulldozers.
Perhaps more learning awaits these young adults in the form of college or further vocational training. Either way, we emphasized the importance of learning a trade that's best for their career development and leadership skills that'll make them prized assets to their future employers.
Who knows? We may just hire some of them one day.
"If you're not going to go to college, you must know the importance of learning a trade and the importance of working with your hands. There are so many opportunities that come with that. We want to meet these kids when they're young. We might see one we like." -- Eric Park, president and founder of Park Enterprise Construction Co., Inc.