Have you ever been in subdivision properties with a playground? How about a private lake?
These memorable, out-of-the-ordinary features help attract buyers and current customers.
Building a subdivision is no easy feat, and takes a lot of time and money. You want to make sure you see a return on your investment into the property, and there is no better way to do that than attract buyers to live on your lots.

Worth Investing in These Features for Subdivision Properties?
We think so!
Most of these features help to capture the attention of a buyer and make a great first impression, while others strive to make the customer's experience at the property more fulfilling. This can lead to great word-of-mouth advertising for your subdivision.
The features include:


1. Lakes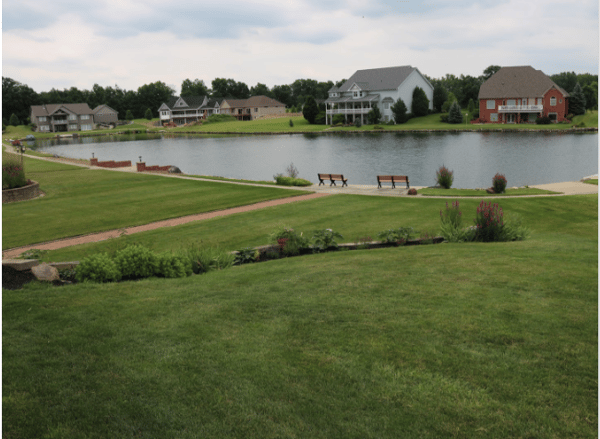 A small lake or some sort of body of water can work magic on your subdivision property.
Lakes not only improve the appeal of a property, but also provide a great hangout point where residents can go boating, fishing, and engage in other water-related activities. Additionally, they help with storm maintenance and draining.
Subdivisions like Eagle Creek in Marion, OH have both a private lake and a public lake for residents to enjoy. The lake featured in the photo above is only available to those whose homes are on the lake, while just down the road within the subdivision there is a lake for all who reside in the subdivision to enjoy.


2. Landscaping
A property's landscaping can make or break a customer's first impression of the whole place. If it's well done, it may imply to the customer that you have paid considerable attention to detail about everything else.
Consider engaging a professional landscaper for a detailed design of a unique landscape that will set your property apart.


3. Entry Features
Pay attention to signage posts, gates, and names of subdivisions. Use unique decorative ways to make your signage.
Also, consider including decorative walls lining the roads heading into the property on the main entryway. Well done signage will make it easy for customers to move around and also enhance boost the area's appeal if done decoratively.


4. Playgrounds and Parks
Playgrounds and parks are essential, particularly for properties that intend to attract buyers with families.
Playgrounds should have adequate space and, if possible, include kids' playing structures such as bouncing castles and swings.
The property should also have a well-manicured park where residents can take a stroll, have picnics, bask in the sun, read on a bench, and host small events.


5. Well-Paved Driveways & Roads
Nobody likes to drive over a pothole or see cracked asphalt in a driveway. Having prospective buyers drive around your subdivision over bumps and imperfections in the pavement is one of the worst ways to make a first impression!
Fix any potholes, and make sure to have an experienced asphalt paving company check all your quality boxes and take care of your driving surfaces.


6. Sports Courts
You should consider having various sports courts when subdividing your property. They could include, among others:

Tennis courts

Basketball courts

Skating areas
If possible, the property can even incorporate a golf course nearby, similar to Eagle Creek.

7. Swimming Pools
A swimming pool is a great feature that often makes a property more attractive to a buyer.
Consider building uniquely shaped pools that can capture the attention of your target market immediately once they set foot on the subdivision properties.


8. Community Common Spots
Many people in gated communities love when they have a chance to meet and interact with their neighbors despite having busy work schedules.
Consider including places in your subdivision property to allow for that, such as:

Clubhouse

Bar

Pavilions

Picnic tables


9. Bike Paths and Jogging Trails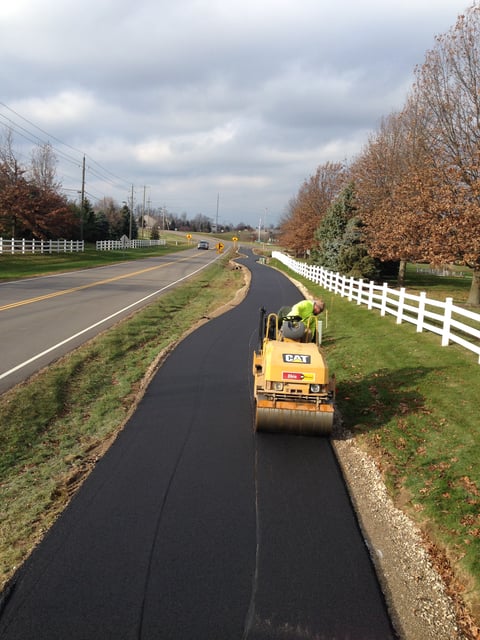 Paths and trails that can be used for jogging and bike riding can add to the allure of your subdivision properties.
Most residents want to settle in an area where they can enjoy exploring the outdoors as they exercise and have fun.
Making sure these paths are expertly laid out and maintained is key to impressing both your prospective buyers and your current residents.


A Little Research & a Little Help
There are many more features that you can consider adding to your subdivision properties to make them attractive to buyers. With some research and help from a professional, you can be sure to get it right!