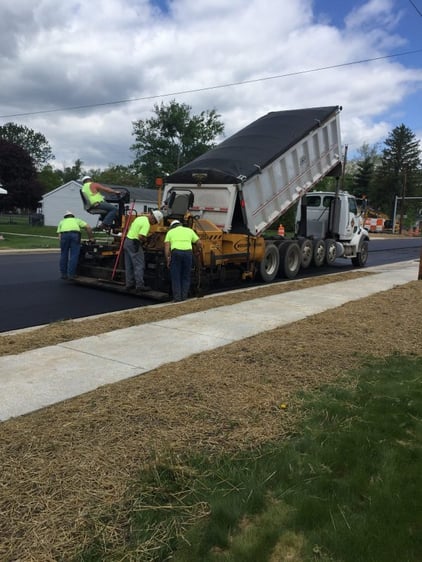 Civil construction projects require honest and upfront communication of your needs and how the contractor proposes to meet them. Both sides should come prepared to hammer out dirty details to achieve a squeaky clean project in the end.
How to be Truly Prepared for Civil Construction Work on Your Property
Before beginning work, civil construction contractors have a few things to learn first about your project. Among others, these include your:
Pain points

Budget

Timeline

Preferred suppliers

Unique situations
But there are a handful of processes you must know before making your construction project a reality.
1. Understanding the Pricing & Bidding Process
Money makes the world go 'round. Your project is no different. You have a concrete figure in mind for what this year's operating budget will permit. Perhaps you'll pay with cash or, like many, use credit to pay down the project in time.
You'll get the most bang for your buck in the bidding process, which is highly competitive between contractors and subcontractors aiming for your business. But first you must know the difference between a bid and an estimate, terms which are sometimes (incorrectly) used interchangeably.
Estimate:

An

unofficial

calculation of the contractor's internal costs, like materials and labor.

Bid:

The final price

officially

sealed and offered to a customer.
You'll first solicit bids in the form of an RFP (request for proposals) - either formally in a publication of record or by researching civil construction contractors and reaching out privately. You may establish a deadline for proposals, at which point you either select the lowest bidder or lowest responsible bidder. After some research, you may opt for the lowest responsible bid as a contractor that'll ultimately do a better job for a little more money.
2. Checking Contractor References & Looking For Red Flags
Any civil construction contractor can claim to beat deadlines consistently. Digging deep beyond their references may tell a different (cautionary) tale.
Your deadline may be an emergency. If a sewer line breaks, you have a messy situation that must be solved immediately. But more than likely, you have a property upgrade that should be completed by a certain time/date to continue business as usual or to make a good first impression on your clientele.
Sometimes only experience can successfully tackle projects to meet both deadlines and quality standards. Does your project require a speedy turnaround? Research company references and compile a list of contractors with great track records for both efficiency and quality.
Of course, unexpected obstacles and conditions can hamstring or derail any construction project (see #6). An experienced contractor will have contingency plans to address issues and complete construction as close to deadline as possible.
3. Developing Your Project's Scope
Let's say your site development project calls for:
Can your general contractor complete each element of that project's scope? If not, will it subcontract out the work? (Keep in mind: Subcontracting is common.) Determining which contractor can best accommodate the scope can mean factoring quote differentials:
Material options (premium vs. generic)

Warranty periods

Shipping/labor costs
Comparing the ability of civil construction companies to fulfill your project's scope isn't necessarily apples to apples.
4. Planning for Local Permits/Approvals/Fees
Generally, a consulting engineer will take care of the red tape often involved in construction. You should have to do very little, if any, of the heavy lifting.
The permitting process differs by county and municipality in Central OH. For example, in the City of Columbus OH cutting into a street requires a permit on site and all inspection fees and scheduling to be handled up front. The City of Marion OH requires many of the same permits and inspections, but the fee structure is much less time sensitive.
Local governments anywhere will expect a detailed set of plans and drawings on file. Some may expect plans to pass planning and zoning boards. Whomever takes the lead on legal matters, you should be able to count on your civil construction contractor to advise the process.
5. Inspecting For Hazardous Materials On Site
No property owner wants to hire a hazmat team. Unfortunately, it may be necessary, especially in the interest of safe demolition and obeying the law.
Asbestos, radon gas, lead, and more are commonly encountered on construction and demolition sites. Truthfully, high exposures to almost any construction material or gas can cause serious health issues. Safe handling and disposal of these substances is a legal and human health matter.
Sometimes a contractor can accomplish this in-house. Other times, your contractor could (and should) assist in locating a service licensed to handle such work. Be prepared for this to inflate your project's budget.
6. Planning for the Unexpected
You know what they say about the "best-laid plans." Sometimes contractors can only do their best to react appropriately to unforeseen circumstances. For instance:
Excavating for road construction could uncover an abandoned underground tank containing unknown chemicals requiring an environmental remediation contractor.

Weather conditions could delay laying asphalt or other fair-weather activities.

Legal matters could delay or halt a project entirely
Expect to stay in the know at all times. If it's important enough for a midnight phone call, so be it.
Congrats! You're Ready to Research Your Next Civil Construction Project
Whether it's your first time hiring for a large-scale construction project or you're a grizzled veteran, you must come prepared. Expect honest communication from the start (and give nothing less in return). Expect quality, efficiency, and devotion to the budgeted scope of your plans - but also expect the unexpected.